on Sat Feb 03, 2018 11:45 am
Head to the Roleplay - The Great Gol'Vahn: Linked Here
For More Info on the World of Origins: Linked Here
Welcome to the city of Liethean, far West of the happenings in Blood Well: Origins. This city is known for its furs, hides, and exotic goods that most would never be able to skin based on the creatures they belong to. The city was built around The Great Gol'Vahn Lodge, a place known for experienced hunters and the promise of fair trade for the work done. Meetings tend to happen around the Great Gol'Vahn, parties are formed and plans are made. You can often find reward boards for various types of creatures causing havoc, as well, you can make your payment in discovering beasts not yet seen. The lands around Liethean will become more clear as the areas are explored. For now, Liethean is located between a tundra and a heavily wooded forest. From Mount Shield, towering above, there flows a great waterfall that forms waterways through the city. These waterways are built up with many watermills to create a form of power to the city, running multiple smiths and mercantile crafters.
Now that you have an idea of the area, welcome to The Great Gol'Vahn, this roleplay is going to be formed on the basis of a monster hunt. Similar to any survival roleplay, your wellbeing is most important, but in all likeness to a Blood Well roleplay...your survival is not guaranteed. If you are looking for some exploration, suspense, horror, and adventure...feel free to jump into this side story in the Origins-Verse.
Character Creation
(All characters are built in the likeness of the fantasy universe of Blood Well Origins , please ask if you need more context about this universe)

Name/Nickname:
Age:
Race (If other than human/any formed race not already in BWO is subject to classification):
When did you start hunting?
How long have you been part of the Great Gol'Vahn Lodge?
Tell us about your hunting style:
What is your hunting equipment?
What is your tragic backstory?
_________________
Learn About Blood Well Origins
Learn About Blood Well Descendants
© 2018 Blood Well Origins & Blood Well Descendants. All Rights Reserved.
BioCollision

Head of Site Design


Posts

: 144


Join date

: 2017-08-13

on Sat Feb 03, 2018 2:42 pm
Message reputation : 100% (1 vote)
Name: Ahdar "The Purveyor"
Age: 38
Race: Mhaith Duine
Equipment: The first ever made Compound Bow (in BW:O), various trap equipment, hunting knife, tomahawk
Mount: Tuiton Great Elk (25 hands)
When did you start hunting?
Ahdar's father was a hunter, so he has been hunting since a child
How long have you been part of the Great Gol'Vahn Lodge? 21 years
Tell us about your hunting style:
Ahdar functions as a ranged hunter, with the use of trapping devices. Ahdar is more interested in larger game. Ahdar has the use of his tomahawks and hunting knife if he were to be locked into close combat with his kill.
What is your tragic backstory?
 They say being part of the Hunters guild is an occupational hazard. This was very much the case for Ahdars father. However, this was not something that brought Ahdar down or put him in some fit for vengeance. However, one thing that disappointed him from the rest of the Hunters guild more than anything was his invention of the compound bow. Being in possession of the first one, not wishing to share his findings, other members of the guild in secret worked to replicate his invention. Eventually, they had succeeded in a sub par version of his original design. This diminished the advantage his invention brought him, and thus became a standard ranged tool for the hunter's guild. Worse of all, he was not credited as the inventor.
_________________
on Mon Feb 05, 2018 1:08 am
Name/Nickname:
Garstig-Grun'zig (Originally nicknamed "Geld-Shit" in accordance with his lower status as a mule of the lodge, his recent incident as a hunter earned him the nickname "The Dead Marked;" technically not a good title)
Other Nicknames:
Old Pisser, Scum, Scave-Rider, The Iron Witch, Forest Stalker, Corpse Theif.
Age:
32 (64 relative to an average human)
Race:
vo'Nitel (The vo'Nitel are considered a subservient race in the lore of Origins, very similar to goblins and kobolds, the primary mannerism that makes them different is their survivalist nature and robust adaptation to the environment they live. Although not confined to a single location, their small stature has forced most of them to be considered mules and forced into servitude for humankind. Their numbers are diminishing fast as they are stripped of their homeland in the Halgitel Marshes and Bin'Tar Desert of the Southwest. Most vo'Nitel never amount to anything beyond their subservient rank, but those who see beyond their stature may realize that this race has a talent for working with their hands and finding resourceful uses in the forge and various tanner, skinner, and gathering occupations. The mortality rate for vo'Nitel is generally between 20-25 as they age twice as fast as humans and are used in jobs that often involve a high death count; a key factor in their diminishing numbers. If allowed to live life fully, many of the vo'Nitel would live closer to around 60-70.)
When did you start hunting?
7 Years ago, see below.
How long have you been part of the Great Gol'Vahn Lodge?
Garstig-Grun'zig has always been in servitude of the lodge, however, a brush of luck landed into his care at the age of 25. A hunter by the name of Kiesler "The Bold Fist" made one of his bold dares to take something useless with him as a partner in one of his extensive hunts. The dare was cast to take Garstig-Grun'zig along as more of a pack-mule or meat-shield if it came to it. The hunt lasted almost a full span (14 Months/1Year). It became apparent to Kiesler that "Geld-Shit" wanted more than just to live in servitude. With meager means, he would stalk the prey and give Kiesler optimal ambush runs, earning Garstig the name "Forest Stalker". The ferocity of a vo'Nitel was noted by Kiesler and compared to a ravenous Lyth who caught the scent of blood, "once they have it they won't stop until they make the kill." Garstig-Grun'zig was brought as a gimmick but earned his place as a hunter of Gol'Vahn in Kiesler's eyes. This, of course, was not accepted widely, and to this day is still questioned by those of newer blood to the lodge. But after 7 years hunting, Garstig-Grun'zig is considered by those who know him well a valued hunter.
Tell us about your hunting style:
Garstig-Grun'zig is ferocious and unhinged in execution, but methodical and coordinated in leading up to the kill. Garstig-Grun'zig is knowledgeable in the uses of various weapons that are brought into the lodge. Little do many knows, but he would test out tools and checked devices of the hunter's equipment away from their eyes...forming the ideal item in his mind for hunting. Garstig-Grun'zig is known for his stalking of prey. Being small and able to navigate the forests with ease, he has many methods of ambushing from above and below.
What is your hunting equipment?
His primary tool is called "The Vicious Rattle," it is a marvel of spring and magical ingenuity passed on from Garstig-Grun'zig friend, Kiesler. The machine is a jagged hook launcher which fires a 60-foot line of bone and metal shards into and sometimes through prey. The magical influence comes with a naming-stone built into the firing mechanism, creating a powerful force which can fire or retract the line. This item is rare in regards to the world of hunters and rarer in regards to a vo'Nitel being allowed to use it. In addition, Garstig-Grun'zig carries a curved shard-sword from Mount Shield, a standard tool for most new recruits (Although he has his eye on better blades). Garstig-Grun'zig also carries a cloak of leaves and a cloak of corpses to assist in his hunt. His mount is that of a Scave (Giant, Rat-esque, creature which has a likeness to a furred spider).
What is your tragic backstory?
As noted above, Garstig-Grun'zig was born into servitude and made into a hunter. He is not accepted by all of this rank and probably never will be. In his last year, the most recent tragedy came in the form of losing his friend, Kiesler during a DeathWish Hunt for the Great Mog of Seven Peaks. During this hunt, not only did Garstig-Grun'zig lose his friend, he also lost his right eye and his right arm. During the event, Kiesler knew he was not going to make it, this was where Garstig-Grun'zig was given Kiesler's weapon in parting. The only reason the Great Mog did not kill them both was because of Kiesler's sacrifice. Forced to leave his friend behind, as a tradition in Gol'Vahn, the hunter unable to make the kill must take their death with open arms and accept the passing of life to give life. Garstig-Grun'zig feels that he was cheated out of this honor by fleeing, and was met with speculation of slaughtering his comrade to steal his weapon by those of newer blood to Gol'Vahn. The name "Corpse Thief" circulated because of this, along with "The Death Marked". Those who are marked by a beast they cannot kill and who return back to the lodge are assumed cursed to die within the year. This event has been almost a full span of 14 months, but Garstig-Grun'zig does carry with him the emotional baggage of his dead friend and the thoughts of if he will truly meet his end before the year's end.
_________________
Learn About Blood Well Origins
Learn About Blood Well Descendants
© 2018 Blood Well Origins & Blood Well Descendants. All Rights Reserved.
on Sat Feb 10, 2018 2:18 am
Name/Nickname:
Junon "The Guardian"
Age:
39
Race:
Humanoid of Thrazond Blood (Think Orc in size)
When did you start hunting?
As a youth of 8 years according to tribes custom.
How long have you been part of the Great Gol'Vahn Lodge?
About 4 years, give or take
Tell us about your hunting style:
Generally never one of the first to engage unless absolutely necessary, Junon's is surprisingly swift and nimble for his large frame. With his mighty buckler he can defend most attacks and even use it for offensive purposes by charging into whatever beast and knocking it off balance. Junon is a heavy hitter with his mighty halberd, hacking away and even decapitating great beasts in a single swing.
What is your hunting equipment?
Junon's main weapons are his Halberd and Great Buckler shield. Both items are forged from his people and are commonly used among them. He also carries two hunters knives which are mainly used for skinning. Thrazond prayer charmed necklace, right arm gauntlet, mid armor that is a combination of thick hide and Thrazond forged metal. Water satchel, a couple small pouches filled with herbs for a few uses. (4 in total), Coin pouch, Thrazond woven rope and blow horn.
What is your tragic backstory?
Nothing completely tragic. The Thrazond tribe is on the verge of extinction. There hasn't been a birth of a new Priest/Shaman in over 100 years. Now 19 years after the death of the last the people of Thrazond truly worry about the fate of their people. Without the blessings of a new priest some have sot guidance elsewhere. This brought the visitation of an
Ailigon
, a rare being only spoke about through stories in which many believe to be tall tales. The 3 foot, hooven creature spoke in riddles and questions and then would suddenly vanish. This act would repeat itself just before sundown the next following 4 days. On the last day the Ailigon spoke clearly of the future birth of a priest for the Thrazonds. This lead Junon and others to venture off toward Clem-yeru village east of their home. Upon arriving they did not find any newly birth child, nor were any of the women baring. During the confusion the town of Clem-yeru was attacked by wild beast men. The initial attack was held off with very few casualties, however the other Thrazond felt fooled into coming and left. Only Junon and 6 other Thrazond's remained to fend off the second wave of attackers. This time however many died. All of Junon's friends and many within the town. Once the fire and bloodshed finished Junon lost his left hand but he was able to slay enough beast men for them to retreat. Though most of Clem-yeru was in ruin, there were still quite a few that survived. Because of Junon's bravery he was given the nickname The Guardian and the survivors of Clem-yeru would spread his name upon their travels as they searched for a new village to call home. The Ailigon returned to Junon after the battle ended. He looked rather disappointed at the fact Junon had survived and then expressed,
"he'll have to try harder next time."
https://i.servimg.com/u/f62/19/75/42/75/unknow11.jpg
King_of_Blades

Posts

: 4


Join date

: 2018-02-26

on Tue Feb 27, 2018 1:41 am
Name/Nickname: Aldeem Zakar [Nicknames:That Zakar Parishman, Former Slave, Scum, Peasent, and Aldem.]
Age: Aldeem is a member of a race that is known for slightly better longevity in their gene pools due to a past of selective breeding as if they were animals. He is around 25 in human years. Not much is known outside of that in terms of the Parishman conversion to human years.
Race (If other than human/any formed race not already in BWO is subject to classification): Parishman of the Zakar tribe. He is exactly like a human but their skin is mottled with earthly tones. The rumors speak the reason their skin looks like obscure marbled earth, dusty reddish, or a muddy brown is because of many years as indenture and slaves bought at market.
When did you start hunting? Aldeem started hunting at a young age through teaching of his father. If they do not kill, they do not eat as their tribe was formerly enslaved to hunt for noble families. In human years around the age of 9-10.
How long have you been part of the Great Gol'Vahn Lodge? 3 Years, as he was formerly a slave that was only used as a tool to hunt.
Tell us about your hunting style: Aldeem is used to using smaller knives, since his tribe weren't given much tools due to be treated like rabid hunting dogs. After being freed from enslavement, he prefers small knives, poison dart guns, traps such as; pits, wooden spikes, falling logs. He is rarely seen with a small broad sword on dangerous ventures. He treasures it almost to sharpening and cleaning it everyday.
What is your hunting equipment? A set of small hooked hunting knives, a couple whetstones, various essentials for making traps like wire, rope, a small hatchet for cutting trees and sharpening sticks. A small broadsword for rare occasions. He also applies primitive camouflage in the form of a burgundy cloak with leaves attached so he can lay or move through forests.
What is your tragic backstory? Aldeem was once a member of a proud hunting tribe who lived off the land, worshipping their animistic gods and offering sacrifices from the animals they killed. Noble families sought them out for that reason, enslaved them, and sold them as hunting weapons for other wealthy patrons. It wasn't until after his father's death along with his uncle's that a law was passed banishing their slaverly. A noble family used their leverage in the courts to level competition and take a great asset away from rivals. Most people still see them as beneath humans, especially those of wealthy lineage. He prefers to show his skills in order to gain respect or fear like many of his brethren have after being freed. He tends to be quiet due to his past, he invented a sign language variant that lets him display phrases and emotions through his hand movements.3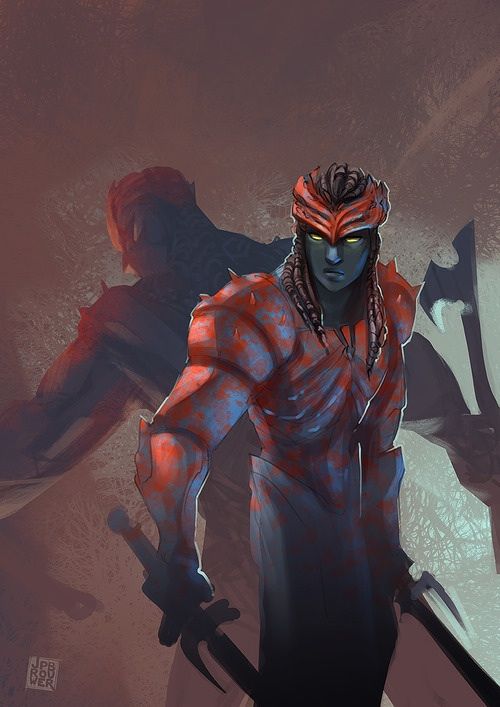 jeshem

Posts

: 31


Join date

: 2017-11-02

on Mon Mar 19, 2018 2:03 am
Name/Nickname:
"That brat kid" Turbor
Age:
12 years
Race (If other than human/any formed race not already in BWO is subject to classification):
Human
When did you start hunting?
Turbor has less been hunting and more making new and experimental tools for other hunters to use. Nevertheless, Turbor has been training since he was 8.
Turbor has also studied under his father and his piers leading him to not only develop and invent his own traps and weapons but also becoming frighteningly proficient in creating explosives of varying power.
How long have you been part of the Great Gol'Vahn Lodge?
4 years
Tell us about your hunting style:
1. Provide experimental weapon to any hunter crazy, brave, or stupid enough to accept it
2. Place as many traps as possible
3. Hide behind bigger, older hunters
4. Throw lots of grenades
What is your hunting equipment?
Backpack full of gunpowder packets, grenades, traps, and random trinkets
Slingshot
Collapsible telescope
What is your tragic backstory?
Turbor was born in the city of Liethean to a retired huntress mother and alchemist father. His father worked as a merchant selling potions and poisons to hunters while also working with several other blacksmiths, engineers, and the like in inventing and improving new traps for hunters to use on the field. As for his mother, she retired as a well respected huntress who, although was nowhere near legendary, was known for being proficient in the ins and outs of the business. His mother now worked as a bar-maiden of the lodge of Gol'Vahn. Working in such environments, she does have her "favorite" patrons, though in all honesty, the infidelity of both Turbor's parents are a half-kept secret at best. This led Turbor to grow up as some would describe as crude, unabashed about "mature topics".
Besides his parents, Turbor also shares a friendly master/apprentice relationship with an old hunter in the lodge who he only knows as "that one-eyed gramps". He is also in a rivals with Kor, another 12 year old and self-declared leader of the children living in the same area as Turbor.

Permissions in this forum:
You
cannot
reply to topics in this forum